In the anniversary post, I had listed down the issues with my RE Himalayan over a period, including problems I had faced later up to November. I am glad to say; I no longer have concerns for Yeti as of now.
It has been six months since my one-year review of Yeti, the Royal Enfield Himalayan. The arrival of Himalayan Sleet edition rekindled my emotions a bit, and I want to share what I did not share earlier.
The new parts are already working well, and have turned up to last much longer than my previous experience. In fact, I also managed to ride Yeti to Kerala from Mumbai and back without much of a problem.
My anniversary review is massively overshadowed by issues and misses out other features that I love about Himalayan.
All new Himalayan Sleet
Everything under the body of Sleet is a normal BSIV Himalayan. The striking new design for tank and mudguards makes a case by itself. What Sleet also offers is accessories bundled along with it.
You get an aluminum handlebar with a cross brace, handlebar end weights that look neat and different from what you get in the other color variants. You also get two panniers with their mounts. The aluminum panniers made by RE are on my wish list and a must for any explorer.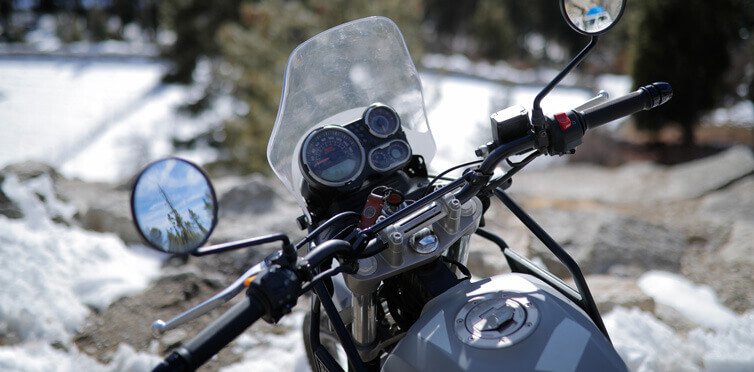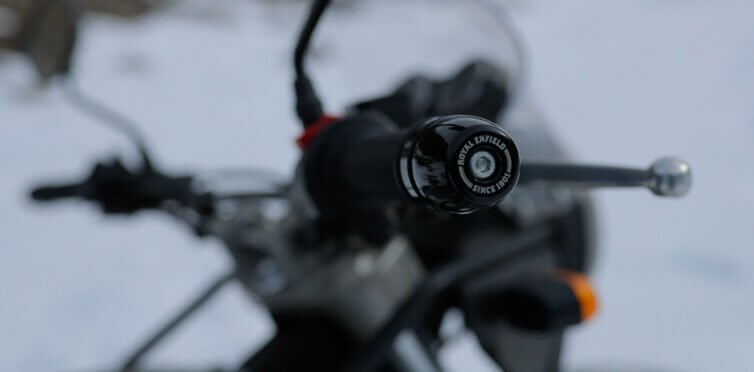 Sleet also comes with engine guards, though I would recommend Donowyn's instead. Donowyn makes guards with stainless steel (SS), which last longer and are much better at taking impact as compared to mild steel (MS) ones offered by Fixwell, Zana or HDT Customs. It appears though Sleet carries guards that were made/designed by Fixwell Motors from Bangalore. You can connect with Donowyn on his facebook page: Donowyn Custom or visit his website at donowyn.com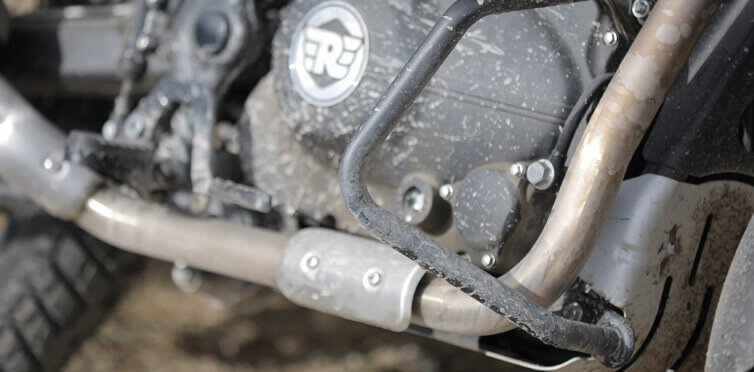 I like the Sleet and wish I could plonk my junk of cash for it. Only if, I had my dumpster full of it. Should you buy the Himalayan? Let me help you!
My experience with Yeti, the RE Himalayan
Since the day Yeti came home, I have taken it to places. Apart from many weekend getaways and short breakfast rides, I rode it all the way from Mumbai to Kerala and back while everyone one else went up north towards the Himalayas. Talk about going opposite to the flow, shall we?
I am an off-road enthusiast. Because I often joke that riding on roads in India itself is akin to off-roading. I have not taken my Himalayan up on an off-road ride and may not do so shortly as well.
I take Yeti to the office every day, in the urban jungle that we call it. Riddled with Potholes, Himalayan makes my daily commute a pleasant experience. In fact, it is this very nightmarish experience we know riding on the roads of Mumbai – Thane suburban belt that helped me zero-in on Himalayan as the ride of my pride.
How does this thing ride and handle?
After all the upgrades, engine and clutch relationship has improved manifold, and they work in perfect synergy. The result is a smooth ride when you are cruising around 80-90kmph. Increase the speed and vibrations creep in, though I never felt it bad enough to hate it.
Ride quality is the best feature on Himalayan. The mono-shock rear suspension (a first for Royal Enfield) and the long travel one at the front, is bliss in the bumpy terrain called Indian Roads. No prizes for guessing if it is a pothole muncher! Of course, it is a big one at that. Add to it; you get a great set of soft cushions to place your bum on, it never disappoints.
Here is a short clip of me cornering my Himalayan during my Kerala ride. I am sure this is good enough to convince you that handling is above par.
Seating and position of Handlebar is often a personal choice. Once you get a feel for the bike, you should get it adjusted to your liking. I found the handlebar a bit lower for my taste, however, I have not fiddled with the factory setting and it is still comfortable. I would recommend everyone, get your RE Service Center to set the position of the handlebar to your liking.
It is this very nightmarish experience we know riding on the roads of Mumbai – Thane suburban belt that helped me zero-in on Himalayan as the ride of my pride
The Long Stroke Engine Story
One grouse I have with Himalayan is the amount of Power it generates. During touring, I did miss the top range when the roads wide open were empty, and I could just gun it down. I clocked a high speed of 145 on the odometer during my Kerala trip.
However, I do understand that speeding also brings a huge risk and the bike is not built to be cursing at that pace. The bike was stable at all speeds, including when I ride below 10kmph while my three-year-old daughter is riding with me to her preschool every day.
The engine though has enough grunt, and it helps in both city and tour travel. When I had got the Yeti, the first few months I had the tremendous issue with the engine heat. For the unintended, this was my first high cubic-capacity bike. A while later, I realized this is not uncommon for more top capacity bikes.
I wish RE had continued to make the performance exhaust! You can get a used one aftermarket, and you will have to pay through your nose to get it today.
The story of missing abs… err. A.B.S!
Breaking on my Yeti is satisfying, and that is about it. As you can see in my test ride review video, BSIV version gets better at it, especially at the front where you can feel the improvement. When Dominar came with dual channel ABS, everyone expected RE to bring in ABS for Himalayan BSIV as well. However, that did not happen, and yes, I am disappointed.
ABS do help in breaking, especially during wet conditions even though Himalayan offers good grip thanks to the stock Ceat tires. So why is ABS missing from Himalayan?
According to the company, bike of Himalayan's capacity does not require ABS to break with both front and rear disk brakes. And since it is an all-rounder, off-roading is better with predictable breaking.
Fuel Injection or carburetor?
Well, let us forget the carburettor because you are not going to get a chance to buy a new BSIII Himalayan. However, it makes sense to understand what you would be buying. To know the technical difference between the two, let me recommend this answer on Quora.
BSIII and BSIV are the emissions standards adopted by Govt. of India to curb pollution. These measures are like standards in Europe. To ensure compliance to BSIV standards, RE had to add Fuel Injection to the engine.
In a nutshell, FI system helps systematically stream fuel; which aids in better combustion and efficiency. Higher altitudes do not leave your bike out of breath, which often happens on carburettor-equipped bikes.
Royal Enfield bikes are not known for their fuel efficiency. And they make no bones about it either. However, with FI, your chances of having a frugal run are higher! The best mileage I have got is 33 KMPL till date. I have known people who have managed to extract 40kmpl! It depends on your riding style, timely maintenance, and terrain.
Why should I consider buying the RE Himalayan?
I know a lot of people are unwilling to buy the Himalayan because of the issues many of us had faced. Of course, I do not think it was right for any new bike to have quality niggles to the level we have seen. However, RE has done a great job turning around and paying heed to the customer feedback.
It took them some time, though, since the change was massive, and for the better. So much better, that while I reviewed BSIV Himalayan in November last year during the test ride, surprisingly I came back impressed. I was impressed with my Yeti. I was impressed that my BSIII Himalayan felt a tad bit better than the new one!
Of course, speaks volumes regarding efforts put in by Royal Enfield to ensure even the BSIII bikes on par with latest parts. So much so that Service Centers were voluntarily replacing pieces even when it was not needed or not broken.
Should I buy the new BSIV Himalayan?
BS4 or BSIV Himalayan is better, thanks to the learnings from BSIII edition experience. Yes, you read that right. Yes, there is an improvement in BS4 on many levels, and quality is right up there as you would expect for a new bike. Plus, it comes with Fuel Injection, which helps the bike get even smoother overall.
The answer to the question is, Yes! Why not?