I was appalled when I saw that Google Maps stopped showing Jammu & Kashmir (J&K) and Arunachal Pradesh as part of India. I was browsing through my Google Analytics hit counts from countries when I noticed this. I wonder why Google omitted when they are already part of India since Independence?
The J&K Dispute
A bit of history then, shall we? Before accession to India, Princely State of Kashmir and Jammu was ruled by Maharaja Hari Singh. Even though he had a Muslim majority population, he wanted to keep the state of Kashmir and Jammu independent and maintain status quo with both nations. Pakistan accepted the status quo, but not by India.
Pakistan then used infiltration to entice a rebellion in Kashmir, primarily with Mehsuds and Afridis from Northwest Frontier. It caused a panic for the princely state that Raja did not seem to have an option to remain independent. Raja requested Indian Army to help when Governor General Lord Mountbatten adviced Maharaja to join the Dominion of India. Irked by State of Kashmir and Jammu's accession to India, Pakistan intensified their infiltration and fought a war (https://en.wikipedia.org/wiki/Indo-Pakistani_wars_and_conflicts#Indo-Pakistani_War_of_1947) with Indian Army.
The UN got involved and passed the Resolution 47 (https://en.wikipedia.org/wiki/United_Nations_Security_Council_Resolution_47), which stated the steps to resolve the conflict is by conducting a plebiscite. If not for Pakistan triggering the war, J&K would have been an independent state/country.
The J&K Ommission from Google Maps
Jammu and Kashmir and the state of Arunachal Pradesh are not shown as part of either Pakistan or China as well. Tagged as disputed territories in Google's International Maps site. Should Google not respect International Borders released by United Nations? One can understand Jammu & Kashmir to be tagged as disputed but still only north of LOC (P.O.K.) should have been shown as argued. Arunachal Pradesh is an official state of India, and is governed by the Government of India and dispensing Arunachal Pradesh under dispute is not something we Indians can digest.
Furthermore, I checked with three different Google Maps to find out how it shows on the Google Maps. And this what it turned out to be. Last time it was red flagged for this, Google had assured the discrepancy would be set right, akin to the earlier data.
Last year August (2010), Minister of State for Telecom and IT Sachin Pilot said that Government had sent a notice to Google for showing P.O.K. as part of Pakistan. "Any wrongful depiction of Indian map and its boundaries is liable for action under the India Information Technology Act. Google has been asked to correct this inaccuracy immediately". After the notification, Google had still found a way to please China, Pakistan, and India by amending local versions of Google Maps for respective countries.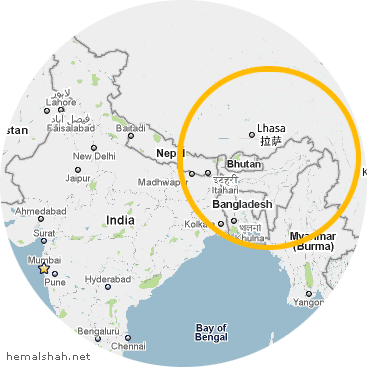 After an interesting string of questions fired towards Google, here is the reply from Google.
It is Google's standard practice to show all disputed regions around the world on its global properties, such as on maps.google.com. It has been Google's consistent and global policy to depict disputed regions as per the claims made by the disputing/claiming nations on its global properties. This does not in any way endorse or affirm the position taken by any side but merely provides complete information on the prevailing geo-political situation to our users of global properties dispassionately and accurately. Products that have been localized to the local domain of a region such as maps.google.co.in may depict that country's position as per the mandate of their local laws.
This was replied by a Google Employee on the Google Maps Support forum. Agreed that Google Maps Local versions have been tweaked to accede to the Law of the Land, but then that too should be implied throughout all of its products.
From a Business perspective, Google Analytics not showing data for Jammu & Kashmir and Arunachal Pradesh, (the company I work for have a few Business Associates located in these regions) I need information of how many hits I am getting from these regions.
What about other map service providers?
Yahoo! too has this same distinction when it comes to their Local Versions. Yahoo! Maps for India shows P.O.K. as part of India, but International version shows it as part of Pakistan.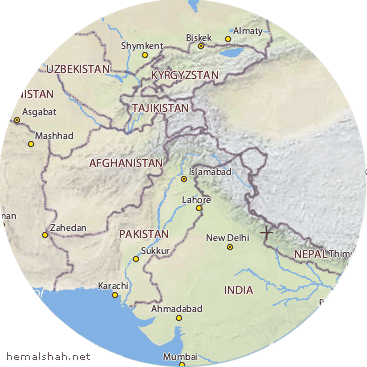 Yahoo! has not resorted to showing P.O.K. or Arunachal Pradesh as a disputed territory but instead, for its International version it has demonstrated that P.O.K. as part of Pakistan. Anyone who is not informed about the dispute considers P.O.K. as Part of Kashmir.