Where is a proper place for lovers and couples in Mumbai where they can sit together for a quite private moment. Well, I am not talking about extremes. I am only talking about having a place where a couple or lovers can sit together, exchange a few kisses and a hug. While you are planning to go there, do not forget to buy a good gift for her!
Author's note: In these COVID19 times, going out must be avoided. It is perhaps a wrong time for us to be looking for romantic places, however love stops at nothing. Request all readers to be very careful, avoid going out if possible, wear a mask always.
Girguam Chowpaty
Unlike the famous Juhu Chowpaty, Girguam Chowpaty (often spelled as Girgaon) is more sedate and calm, and is less crowded in comparison. It is also smaller, though as much beautiful. Many couples start walking from Nariman Point ending their walk into Girguam Chowpaty to grab a quick bite or a meal at one of the stalls there.
PRO TIP: The Pav-Bhaji here is delicious! In summers, end it with a Kala Khatta for desert.
P.S: Read some of my top videos and subscribe to my YouTube channel!
Nariman Point
Another gem in the queen's necklace, Nariman Point hosts several business houses, and is often well known as commercial part of South Bombay (SoBo). However, located at the far end of queen's necklace, Nariman Point offers breath taking views of the sea, and hosts a lot of establishments offering delicious meals.
PRO TIP: You can take a long walk towards Marine Drive and back with your beloved in your arms. The experience is beautiful, a memory you may cherish long into the future.
Marine Drive
A walk along the Marine Drive, holding hands of your lover often turns romantic. The cool evening sea breeze and the dusking sun are a perfect setting. Have an ice cream or peanuts, speak up to your partner and open your heart, pour all the love you have in this setting and you will have a time you will remember for a long time.
PRO TIP: Beware of Police here if you are sitting for long. It is known that some of the police personnel do have vested interest and pick up couples and lovers who could be vulnerable and threaten to inform their family members to extract a fine, for which you will never receive a receipt.
Worli Sea Face
An extension of Marine Drive, Worli sea face is perhaps more beautiful than Marine Drive itself. It is most of the times, less crowded as well. With the Bandra-Worli Sea Link and the sea for back-drop, the location is a new favorite among friends as well.
PRO TIP: Nehru planetarium is also close-by and a must visit. You can watch the late afternoon show, and then proceed towards the sea face for a fulfilling experience.
Dadar Chowpaty
Dadar Chowpaty was recently in news for wrong reasons. It was filthy, and unclean for anyone to enjoy the place. However, there has been an clean up effort organized by some of the residents nearby, and has hence become clean place. Due to perception of it being unclean, the beach is less crowded and hence a great place to visit along with your lover for some private time.
PRO-TIP: Taxi's are easily available outside Dadar Station to reach chowpaty. It is a preferred way for couples to travel to Dadar Chowpaty.
Hanging Gardens
Located at the top of Malabar Hill, Hanging Gardens is a terrace garden on Arabian sea shore. The garden features numerous hedges carved into various shapes, water fountains and flowering plants. The gardens were built on top of a water reservoir to protect the water from contamination, and to enhance the beauty of the place.
Enjoy quality time with your loved one at Hanging Gardens. Talk and talk endlessly, give attention to him/her and make it the best of your time.
PRO-TIP: Best time to visit is during the early morning and early evening.
Jijabai Udyan or Ranichi Baug
Erstwhile called 'Victoria Garden', this is the only Zoo in the city and one of the oldest in India. Relish the childhood memories with your loved one by spending time visiting the beautiful wild animals and support the existence of this iconic place.
PRO-TIP: Get in touch with the officials to inquire about adopting an animal, by offering to pay to feed for a period of time in your lover's name. They would love it!
Nehru Center
If you are an arts and theater fan, Nehru Center often has art or drama shows on its schedule. You can also visit the Science and Space Museum or pay a visit to the planetarium. The center also hosts organizers who conduct discount sales or exclusive product events.
PRO TIP: Nehru planetarium is also close-by and a must visit. You can watch the late afternoon show, and then proceed towards the sea face for a fulfilling experience.
Mahim Beach
One of the seven islands, Mahim has a small beach and a fort. The fort lies in ruins, and is not at all maintained for you to visit. Encroachments have taken over the beautiful view that could otherwise be enjoyed by everyone else. However, if you insist, you can visit Mahim Beach since there will be little visitors here.
PRO-TIP: Avoid this beach unless you really want to.
Juhu Chowpaty
The land of celebrities. Juhu is one of the most sought after residential area for celebrities from all walks of life. And it's beach is very famous, and crowded. Even then, you can enjoy walking through the beach while the sun sets in the background, grab a quick bite of the famous chaat houses there. Pav Bhaji and Paratha from Paratha House are the most famous.
You can also walk, hand-in-hand, with your lover to Versova beach (about 2 kms), while waves flirt with your legs. The long walk, the occasion peck on the head, can go a long way into solidifying the relationship. 🙂
PRO TIP: Avoid going there on holidays and weekends, since the beach tends to get over crowded and you may not get a decent, private time.
Bandra Bandstand & Fort – Lovers paradise
This has been the focal point for loves since years. To be sitting on the rocks with constant breeze and the smell of the sea, along with your loved one is the best place to be. Hold your hands and stare into each other's eyes while you hear the breeze and of the waves can be a loving experience. Visiting the gates of Mannat, the house of King of Romance, is must if you are an SRK fan.
Castella de Aguada or Bandra Fort is one among few forts around Mumbai. Built by the Portuguese, the fort and bandstand area are scenic and instantly lovable. Since it is open area, there may be many stags who roam around, and can be pest at times. Also, transsexuals linger around and ask for money (although they are the first ones to alert you in case of any miss happenings). Fort is on the south end of the promenade, near Hotel Taj Lands Ends.
PRO TIP: If you are sitting on the rocks, beware not to venture further inside as the sea may rise on high-time. Many couples have got stranded in the area because they went too deep.
Carter Road, Bandra
It is the sea face of the west-central Mumbai. Carter road is a posh locality, with superb sea side setting. There are jogging tracks and places to sit for long hours listening to the waves and feeling the cool Arabian sea breeze.
Similar to Marine Drive, but a different setting, Carter Road is one of the most visited by lovers and college goers. It is also a place which offers some privacy and places to sit and have a quite romantic conversation well into the evening. During the evenings and late night, this place tends to host a happening crowd.
Versova/Silver Beach
Mumbai is blessed with a few beaches, and it will help if these are kept clean. Versova Beach is perhaps the cleanest beach now in Mumbai, and offers great view of the Arabian sea. Spend quality time in privacy with your love.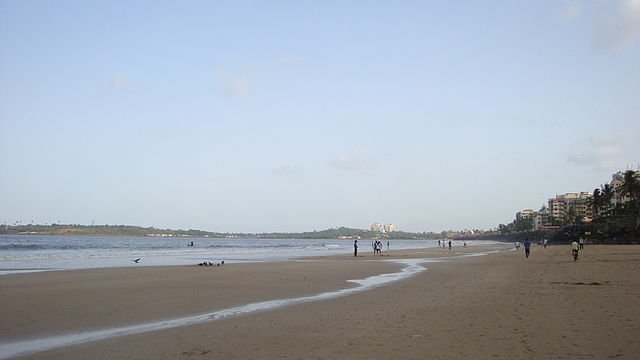 Madh Island and beach
The city of seven islands no longer, Mumbai still has some island destinations around. Madh Island is one of them, beauty of which will leave you spell-bound. With the calm shores, mangroves and the sea breeze, this place is sure to get your romantic mood going. Though it will be expensive to hire rooms here, traditionally it is one of the most sought after destinations by lovers looking for some private time.
PRO TIP: Beware of any hotel you book, ensure you check the rooms for any hidden cameras. Also, do not deal with agents roaming around the place. For god's sake, do not record anything on your phone either. Only travel in your own vehicle or one you rented for the day.
Erangal Beach
Erangal is a sandy beach stretch in Madh Island area. If both couple enjoy fish, then this may be a great place for them. One can spend time on the beach, and watch fishes being brought from the sea and put to dry by the local fishermen. The landscape is beautiful, with hills on one side and sea on the other.
The beach is used to dry the fishes caught by the fishermen and hence the stench of dried fish is everywhere on the beach and surrounding areas.
PRO-TIP: Avoid visiting on Sundays and holidays if you are looking to have a private time with your lover. Carry your own water!
Dana Pani Beach
Dana Pani beach is located on the Madh Island area, and is most frequented by couples for a lovely time.  Enjoy the vast expanse of the sea and rocks, with some snacks from the road side eateries. The approach road is near the beach, and hence you can also spend time sitting on the wall or in your car/on your bike.
By nightfall, most of the normal crowd goes away, due to lack of street lights. However, lovers stay back in darkness to have their own private time. The area is also known to have a lot of people drinking and creating nuisance, and hence staying after dark is not recommended.
If you are a large group of friends or many lovers, then stay behind to feel the breeze, listen to the waves and gaze the stars on a clear night.
PRO-TIP: Travel with your own vehicle, sit on the shore and enjoy the breeze. Carry your own water!
Aksa Beach
"Tuje aksa beach ghumadu, aa chalti kya?" or so goes a popular Bollywood movie song. Aksa beach, off Malad and near Madh, is one of the best on the Mumbai Coast line. It is, however, more commercialized beach as compared to a few others in the vicinity. The beach is vast, however due to its fame, it tends to get crowded. It is recommended that you arrange for your own travel without relying on Rickshaw or local Taxi's (Kaali-peeli).
PRO-TIP: Do travel to this place if you have your own vehicle. The beach is far from Malad, and rickshaws and taxis do not ply on regular fare. Also, Ola and Uber will have limited availability. So be prepared if you are not traveling in your own vehicle.
Marve Beach
Marve Beach is closest to Malad, however the beach itself is not much enjoyable. Marve is more of a jetty where you can get board a boat to either Global Vipssassana Pagoda or Essel World/Water Kingdom theme parks. If lovers want to experience peace then a visit to the Pagoda from Marve can be an enriching experience. Marve to Essel World is a longer route and takes more time as compared to Gorai (near Borivali).
Enjoy a ride on the boat and come back to the shore to treat yourself to Mumbai chat at the stalls.
Manori Beach
If you miss Goa, and cannot go to Goa, then to to Manori Beach. It cannot replace your Goa experience in full, but is a great, calm and less crowded beach. You can easily find budget resorts here for stay.
Couples entry to stay unless your are married is often seen looked down up. It is however a great weekend get-away from the hustle and bustle of the city, and not too far away either. Burns a small hole in the pocket, Manori will not fail to surprise you.
PRO-TIP: DO not forget to carry Cash. Digital payments options are far limited, and nearest ATM is really far away.
PS: If you are booking a hotel, then make sure you buy the essentials!
Lovers in a forest – Borivali National Park (Kanheri Caves)
Its not a place to go for couples who are not interested in nature. There are many instances where lovers go there and exceed all limits of decency which is not at all appreciated. Borivali National Park is a place to visit for the nature.
If you want to spend a lovely time with your partner and take a glance at the nature, you will love it. The Kanheri caves have some of the nicest Buddhist art in the city, totaling near to 100 caves of all sizes. The park offers many attractions too.
Other places too are good for hanging out: Hanging Gardens, Horniman Circle Gardens, Juhu and Silver Beach, Chowpatty, Beach at Versova, Nehru Park etc.
There is more!
Well, this is a list of beaches and beach shores. However, if you are interested in spending time indoors, then go to the part two of this article, where you have more options to explore like Cafe's, Discos etc.
What about outside of Mumbai?
If you have a car and want to drive out, here is one place you can go! I keep posting videos on my Indianomics channel, and the below video was shot as part of my road trip. For many such videos, please subscribe to Indianomics Travel Vlogs