Tata Hexa Review: Competition has to be worried!
This is a continued post about my Tata Hexa Experience. I spoke… err… wrote about how immensely important it was for me to meet and converse with the people who were behind this project. Most of the automotive channels like magazines and websites will not be speaking about that – or for that matter, I don't know if they cared. Here on, then, let's talk about the car.
The Hexa is an improved effort from Tata Motors, who have been going through a rough patch in the domestic market. Thanks to JLR, they continue to make profit. Lack of visibly all new products did hurt. Tata Motors did launch the brilliant Zest and Bolt – throughly re-engineered cars based on the Indica Vista platform. They also did bring out Safari Strome, like Bolt and Zest, throughly re-engineered.
The whole new Tata
What let them down was the design that got carried over. Bolt and Zest did resemble Indica a lot, thanks to the limitation of the platform they were based on. Safari was a different case, but the image carried over in spite of it being a all new car. Clearly, Tata Motors had got the design sentiment wrong. These products in their previous avatars did have a lot of negativity. The perception remained in the minds of customers, which made them stalk away from a Tata Motors show rooms. Service quality took a beating, sales staff pushing people to buy diesel engined cars etc. A lot had to be changed.
Kitna deti hai?
Wait, we have started to talk about the car. Common, please hold your self and read through!
The Change!
Starting with Tiago, the new Impact design language conjured by Pratap Bose saw the dawn. It was well received, and Tata Motor's Ashish Sahni and Vivek Srivatsa did say Tiago is doing pretty well for the company today. And that is an approval to the confidence in design that Tatas have put on Pratap.
It is a welcome change. Tata Motors was never known to make beautiful looking cars, and this is changing! It is welcomed, too. Bringing in the in house design teams from UK, Italy and India together this is one project that looks too great to be a Tata Motors. That, my dear reader, is a change that people did not expect.
It is particularly challenging to bring this car out, in a short span of time of 2 years. Yes, that is all the time it took for Tata Hexa to be ready for production. Everything moved faster, people worked their bases off to get this product out on time. I was honored to get the director of the project, Bharat from Tata Motors, be my passenger when I drove Hexa for the first time.
Aria, Hexa is here.
Aria was conceptualized as a cross-over. That, was not the interesting bit actually. What blew everyone away was that Aria never felt like a Tata car from the inside. It was a sign of Tata's intent to go premium. They did deliver premium with Aria. However, it failed to garner the benefits Tata Motors had hoped for. Starting with the prohibitive price, the after sales and image of the car failed to gain much fans.
Tata Hexa is not a cross-over. It has been designed inside-out to look like an Sports Utility Vehicle (SUV), with the practicality of an Multi Utility Vehicle (MUV) or better known as a people mover. And it will be promoted like one. This has a distinct advantage over from Aria, and the learnings from it were well read and exercised.
Tata Motors came up with an interesting marketing analogy to describe the prowess of Hexa. Power Packed, Feature Loaded and Adrenaline Pumped. Things that you will expect from an SUV. Based on the improved hydro-foamed X2 Platform Aria used, with a body on ladder chassis. And that is not a bad thing at all – it is strong, tough and rigid. It makes the case all the more interesting. It looks eye-catching.
Tata Hexa stands out. The design looks brilliant from all angles, with the floating roof (thanks to pilers in black) that looks amazing on the car. It does miss out on the sun-roof and a push start though (sorry Tata Motors, forgot to mention this to you as feedback), but not that much of an issue for me. There is ample amount of chrome, which the crazy shine loving Indians will hugely appreciate. I surprised myself by loving it to, as well. The chrome is not overdone, and melts into the design so ever smooth that someone like me, who hates chrome does not mind it.
Impact of the Inside
Move into the car, and you will have a familiar feeling. Like Aria, you will not feel that it is a Tata car till you look at the steering wheel. The quality of the interiors will make you wonder if it is really a Tata car. You will have to remind yourself that this is indeed a Tata. Superb is the word that I got in my mouth!
The design team traveled as far as US, UK and South Korea and everywhere between to source parts to make this car. The roof lining, the leather seats in contrasting thread colors, the seat design and comfort foams, the AC vents with brushed aluminum effect on sides oozes supremeness. The effort and hard work that has been put behind this car clearly shows off. The cool glove box design caught my eye and probably is a stand out design feature for me – I love how it looks. Very neat Tata, very neat!
Move into the car, and you will have a familiar feeling. Like Aria, you will not feel that it is a Tata till you look at the steering wheel.
The black theme of the cabin does pretty well to hide any gaps, which are rare to find as compared to previous Tata cars. Dashboard is relatively simple, but is brilliantly functional. It stands out still, complimenting the solid looks of the exterior.
My only grouse though is the position of the A/C controls. While driving, it may be a bit too low and can fiddle with the gear. This, however is not a huge issue for someone who will get used to the position. Most of them would set the AC before the ride starts too and can be ignored.
Entertainment, entertainment and entertainment…
The dialog from The Dirty Picture, expressed by talented actress Vidya Balan, found a perfect match in the talented Tata Hexa. The sound duties are via custom designed-for-Tata-Hexa awesome JBL speakers, delivering fine sound via 10 speakers positioned strategically to entertain you like none other.
The woofer in the boot helps bass to be crisp as it could get. The touch infotainment system connects to your smart phone via an USB cable. Tata has created special apps through which you can use navigation, juke box etc. These apps needs to be installed on your phone though.
The touch screen is responsive enough, but feels a bit smaller for the car this size. You also get a remote controller, which helps in case you are being chauffeur driven (who won't love driving the Hexa, I wonder).
Then there is an array of technology that will make the competition sit up and take notice. It has got cruise control, hill assist and phone controls on the steering wheel, automatic headlamps and wipers. There are also two USB ports to charge your phone as well, one on the dash and other one for the second row.
Kitna deti hai?
Wait, we have not spoken about the creature comforts yet. Common, be a sport!
Comfort x 6 times
The multiplied by 6 note above stands for Hexa, if you have not already figured out. And that is how you will feel inside Tata Hexa. It has one of the most brilliant seats I have ever felt in recent times. During the design brief, it was called out that special effort has been made to ensure the seat ergonomics are nothing but the best. Again, kudos to good folks at Tata Motors! The supports built around the seats work great, and help you have a brilliant and comfortable drive irrespective of the distance. The arm rests provided are perfectly positioned, and are a brilliant touch. So much so that it has to be one of the best bit in the car. Sounds unbelievable for a Tata vehicle.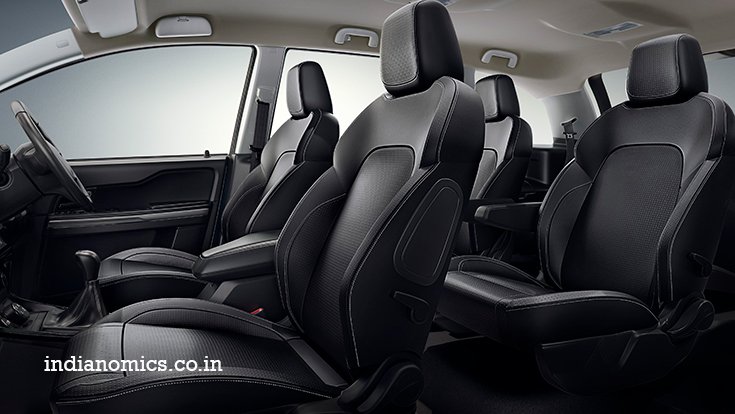 The rear AC vents and its positioning ensures that temperature remains comfortable across. The leg room in the second row are just like in Safari – huge. There are also blinds available in the second row seats, which you can pull up. The third row seats are unlike the latest corp of cars, and will fit a reasonably well built person like me (5.5″). Not as much leg room as the second row, but so much better than every other car in the segment with third row seats. Overall you will not at all feel tired after a long drive, except for may be the third row of seats.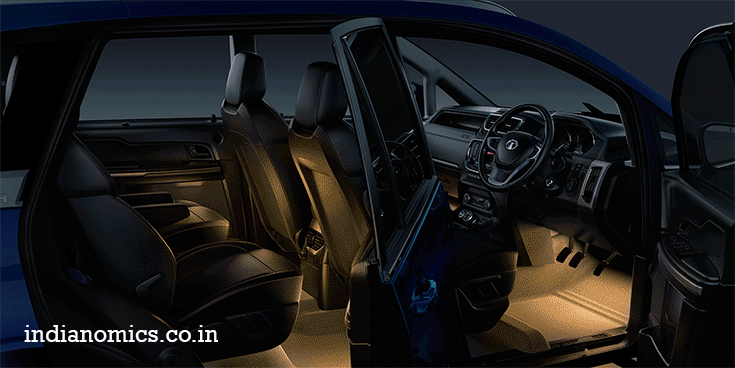 The seating up front has an 8 way height adjustable seats gives you a commanding view of road. You also get a sun-glass holder on the driver seat – that is a neat touch. Right behind the steering wheel you have a Speedometer and Rev meter, and sandwiched between them is a nice LCD display which shows varied information. You can read the drive mode, door open alarm, seat belt alarm, fuel economy and trip meter.
The Storage Question!
With all seats up, the rear luggage area is not the best place to put your suitcases. Folding the third row of seats also do not give you a flat bed, which is a shame. I did not try folding the second row of seats, but was told that they are not completely flat as well. If Hexa fails in any area, it is only this. But that is a trade off you will have to make to get contoured and absolutely awesome seats.
Another thing that Tata's have vastly improved in Hexa is to provide more than enough cubby holes (err.. they arent holes… lets call them pockets!) to store things. The front row gets an addition storage which doubles up as arm rest. With the cool glove box I had mentioned earlier, there is a normal glove box below to store your papers and other things.
Kitna deti hai?
Wait, we have not spoken about performance yet. Hold your horses!
How does the Tata Hexa perform?
The Tata Hexa carries the engine from Safari Strome, which is a 2,179cc Varicor 400 engine. The engine produces 156 hp of power, along with 400 nms of torque. The engine name borrows the number from the newton meters of torque. With the power figures quoted above, it is difficult to imagine how it will suffice since the car itself weighs 2.2 tonnes.
Tatas have decided to bring forth an automatic version up front as well. It is an conventional automatic and not AMT, which gives a much better performance. The manual is a 6 speed gear box, which is a lot rubbery to use. The manual transmission failed to win me over, though. And it remains to be seen what Tata can do about it. I drove both the manual and automatic – and can tell you that Automatic makes the best choice. For a novice driver like me, it was really easy to drive and I quickly got accustomed to the large bodied car.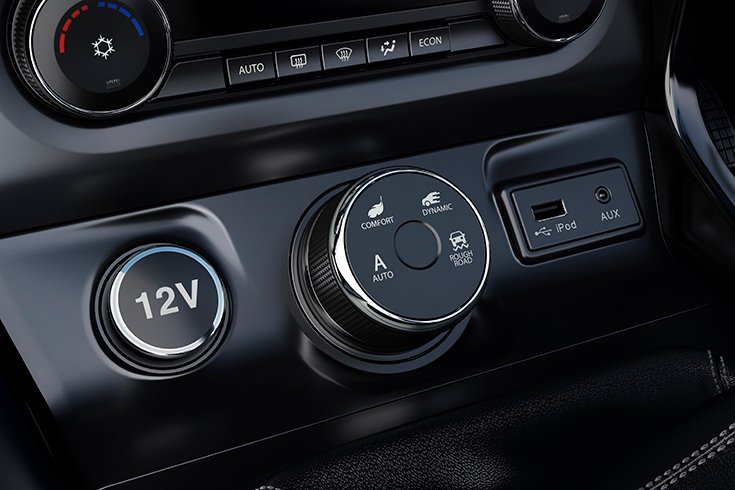 An added bonus is you get a Power mode in Automatic, which helps you push through in case of overtaking on highway. The engine controller smartly manages up and down shifts, moving to the red line before shifting up. And in case you are up for it, the knob can be pushed up to move the gears quick enough.
Though if you want to go off-road, and Hexa does that brilliantly, you only have the choice of Manual transmission. The manual transmission variant gets a multi drive mode which tunes the car to perform in 4 different modes.
The ride quality is plush, and is really stable at high speeds – we hit 160 kmph on the outer ring road at Hyderabad and never felt that car was going that fast.
How safe is Hexa?
With the social media buzz on NCAP results of Indian cars, this is a question that has already been asked at every car launch. Tata Hexa is no exception. Richard Winsor, head of exterior design at Tata Motors said that they are complying to existing norms that are set out in India, even though there are no such crash test certification required according to India laws. However, given the sturdiness of the X2 platform, it should be fair to say that Hexa would be on par or better with all other leading brands in India.
To ensure there is enough safety, Tata Motors have baked in 6 air bags into the design of Hexa. In addition to air bags, it has Electronic Stability Programme (ESP), ABS with EBD, Hill Hold Control (HHC) and Hill Decent Control (HDC), and Traction Control System. It is a comprehensive safety suite.
Finally, kitna deti hai? (Mileage)
Alright, I know patience is a virtue. While Tata Motor's Vivek Srivatsa refused to divulge details on the price and fuel economy, during the test drive the following day it was very much evident. Tata Hexa returned a respectable 11.2 kmpl mileage in the automatic. Surprisingly, we got 10.9 kmpl in the manual. Of course, these numbers are not exact figures since some times the system calculated mileage may not be accurate to 100%. But assuming a 5% give and take, this is still great news.
Automatic was a revelation, to be frank. The automatic Tata Hexa returned a respectable 11.2 kmpl mileage compared to 10.9 kmpl in the manual.
Should competition be worried about Tata Hexa?
So, does the likes of Toyotas and Mahindras of the world need to be worried? Yes, they should be. Hexa is in true sense a comprehensive, balanced achievement. It is not every day that you get to see a product that people should have bought. With all the safety controls baked in, luxurious interiors, powerful engine and best seats in the class, Tata Hexa is a value proposition.
If I was in the market looking for a family car, Hexa automatic it will be.
More car per car, like erstwhile Indica. With an estimated price ranging from 13 to 18 lacs, you get a brilliant looks outside, elegance and premium feel inside. Yes, that is a lot of money for a Tata. But Hexa is technologically advanced, feature loaded. It connects emotionally with its audience. It is a perfect car for a family, to travel in extreme comfort. The cabin quality will surely appeal to the buyers ready to shell money in this bracket.
If I was in the market looking for a family car, Hexa automatic it will be.