So this meet was announced in a very short time. The timing was confirmed only a week ago and what a Meet it turned out to be.
Renie put up a question asking who is ready to make a presentation on the Meet Comments page. I was up for it, but did not know what it was all about. It was the first time he ever asked such a question, publicly. So I called him up and understood that this time HP IndiBlogger Meet will have bloggers giving presentation – something meaningful that could help fellow bloggers.
Then Animesh and myself started working on two presentations – both which we planned of presenting together.
First one – the one closer to my heart – was titled "D for Design" and the second one built over my post on how you can make copying of content from your blog difficult. More about that a bit later.
This for sure was innovative – as were the Sponsor's products. The HP Android Laptop, Tablet and Slate. Yes you heard it right – HP is coming up with a Laptop, Tablet and Slate (mind you this one is a 21-incher) with Android as Operating System (OS).
But for the venue… a change that was not so much of a welcome. Ave29, near Grant Road station with the size of a 2-bedroom kitchen apartment. Even though it had a nice ambiance, by the time Event tugged along, we had to make a few bloggers standing as all seats were occupied.
Accompanying me was my wife – her first IndiBlogger meet. The entire IndiBlogger team had bugged to core to get her along every time I have been to IndiMeets.
So we set together with Animesh and picked up Sriram along the way. Some stories (the Story Teller was with us) later, and thanks to the inefficiency of the GPS on my Galaxy Note, we reached the venue a hour later than we had planned to reach – Bang on time at 2.00 PM when the event was scheduled to start. And so it did…
The Blogger introduction – the now infamous – 30 Seconds of Fame did not go as it always was held – this time, people were randomly picked to speak about themselves or as Anoop Johnson (the host) wished. This was a positioned as a Tech Meet, and it truly was techy enough!
As with every HP meet, there were lot of flyers – 2.0 Laptop Speakers, Wireless Keyboard and mouse, HP Laptop Bags and a HP 21′ Android Slate.
While HP Showcased 3 of its new Android products along with 2 Windows ones, the question that I had in my mind was – Why Android Now?
Why not Android Now!
I asked this question – and I had my own reasons.
HP has been a Microsoft affection-ado since the memory started serving myself. The fact too is that Microsoft had the only OS that could sell well. Mac was sold only with Apple made desktops or laptops. Linux was not (and still not) developed enough for novice users. Well, in short, Windows was their only choice.
I would not have asked this question had HP Launched an Android Phone. Then my question would have been, what happened to WebOS? Well, its past its prime.
HP 10" Android Slatebook
So why HP went with Android? Simple – everyone is joining the Android bandwagon and consumers are asking for it. I am sure the HP's 10′ Slatebook is going to be a success. It heavily borrows the Windows 8 selling idea of a Tablet with detachable keyboard. You call it a hybrid if you may.
HP SlateBook 10
At INR 39,990/- this one is packed with a punch. Powered by the latest NVIDIA Tegra T40S 4-Plus-1 Quad Processor with a 2GB RAM, 64 GB of Storage space and expandable up to an additional 64 GB is a feast. It also comes with 1 year on-site warranty + 2 years additional warranty free. And it runs on Android Jelly Bean 4.2. And yes, it also comes with dual battery system – one into the Tablet and other into the Keyboard dock – did I say it was going to be a success?
The convenience of a tablet and a laptop is what I liked the most. For my blogging duties, I always prefer a keyboard to a touch screen. And typing such long posts like these, definitely calls for a keyboard – what do you think?
HP 21″ Slate All in One Android Desktop
Yes, you read it right. It is a 21″ All in One Desktop, with Android as the Operating System. The last time I knew Google's plans, they were to make Chrome OS as their preferred OS for Laptops and Desktops. But this is a game changer. Cannibalization anyone?
Who would have thought it! And no, this one does not come with a calling feature built in 😛
In my view, this one has something to go for it. For one, it is a touch screen (not very responsive though) tablet with 21″ screen. Comes with the same processor as the 10″ Slatebook, but only packs 1GB of Ram and 8 GB on memory, and an additional NVIDIA Tegra 4 Graphic Chipset. Androids do not work (were never designed to) on physical hard disks, so you are storing your data on Flash drives.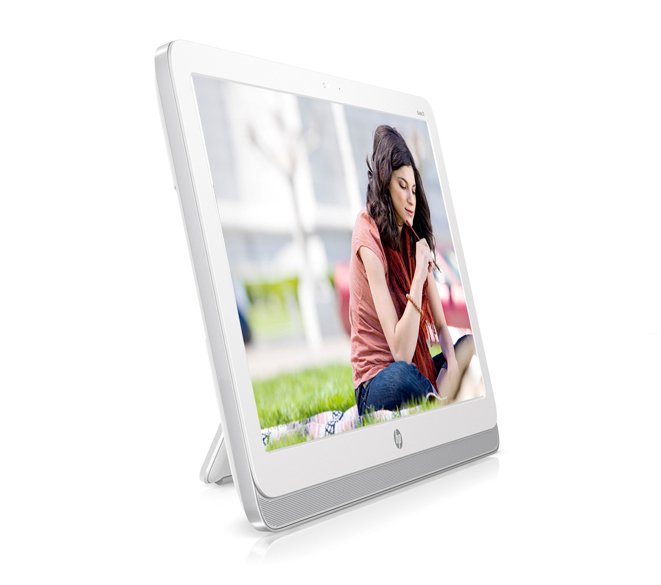 8GB may be less, but HP wanted to price this device to a lower spectrum – I believe a reason why the touch is not so very sensitive. But this is a home entertainment device. It is expected to just entertain you and your family. Watch Movies, Pictures and this one is as good as any other device could get.
Priced at INR 27,990, this one is a bit pricey – but well defined for its purpose. And you get a 21″ Screen too. And you can technically run all your apps that you have purchased on your Android phone on this Slate as well (provided there are scaled up versions).
Warning: Do not expect to play Subway Surfer or Real Racing 3 without using a keyboard. It is not a tablet, this is a monster 21 inch-er.
HP also introduced a couple of other products like HP ENVY Rove20, HP Pavilion11 TouchSmart Notebook, HP ENVY14 TouchSmart Ultrabook, and HP SPLIT x2, all using Windows 8 – but for us, the meet was all about Android. HP also has moved to Online Shopping in India. I guess Dell's success finally forced HP into utilizing this medium as well.
HP Product Launches (File Type: PDF, 822 KB)
The Presentations
So since we are in the midst of a lot of Innovation from HP, IndiBlogger decided they cannot stay behind and make our event even better. Bring in Bloggers' Presentation.
I spoke to Renie and informed him that we will do the last two presentations – there were a total of 4 presentations.
First one was Windows Mobile OS V/S Android. This presentation (I will update the name of this blogger later) was short, well defined and simple. The motive was to inform users about the differences and make the right choices when buying a mobile phone.
There was quite some discussions around this topic and people were surprised to find out some of the key glaring feature-misses. Like Android does not directly allow attaching files (except media files) to emails unless you have a 3rd party software that could let you do so. Phew! That is a glaring one for executives – I am sure.
The second presentation, and most hilarious of the 3 presentations (yes, the 4th one had to be cancelled due to time constraints) was from Sudarshan Rangarajan. His presentation was about, again mobile phones but this time was the Handset makers and not about OSes, My perfect Life Companion.
He was on a song, literally. Started off with how mobile phones used to be a couple of years ago – each had a shape, and a style. Compared it with today's phone which all follow a same design language – rather too flat. He brought along his HTC ChaCha and ChaChi, along with tons of ideas about how he wants his phone to be. Should not be pricey, at the same time should be tech laden.
I will leave my idea of buying myself an iPhone to be buried in this post.
And the third and last one of the presentations was D for Design – which was hosted by Animesh and myself. In this presentation, we shared the importance of Design in our blogs. Importance of smaller design aspects which makes or breaks user experience.
One of the most important part that we discussed is how fonts, font sizes and how navigation aesthetics play a very important role in retaining a reader. The part I wanted to talk about longer, Responsive Design, had to be cut short as we were running out of time.
The forth presentation that was planned, was about Plagiarism and how you can do your bit. We are going to be doing this presentation, next IndiMeet.
So then it was Tada! Time to go home (or elsewhere as we figured out later).
We departed from the venue to follow the IndiBlogger team's hideout at Toto's Garage in Bandra Pali hill. I liked the old school charm at the pub, it was too small to occupy all of us I felt. However conversations galore. Sainath, Roshan, Animesh, Annie and myself were talking among ourselves while Anoop, Nihal, Nanny, Renie and Vineet were talking among themselves.
Karthik was playing the joker – looking out for an interesting conversation and switching sides.
After this, Animesh, myself, Roshan and my wife decided to go to 5 Spices restaurant to have our stomachs served with an awesome Burnt Chilli Fried Rice, with a Rocky Road Ice Creme to end our day. We bid farewell to Roshan and left for Mulund – where Animesh would drop us, and me and my wife would take the train for our onward journey to Dombivli.