Call it the Call of Duty or Meeting a Beast. You can pick one, but both, I did with pleasure.
The new IndiBlogger meet in Mumbai had something never seen or experienced before at any previous meets. As with every IndiMeets, I set off on my trusted and abused TVS Wego from Dombivali to Andheri Chitrakoot Grounds via Mankhurd for a stopover at my in-laws. Oh yes guys, I recently got married to my love of my life.
Riding the Wego with Pillion for 36 Kilometers and then solo for the next 24.7 KMS was as always pleasure. For me, this was kind of an extreme drive (ride if you so wish) through horrible traffic as always. The longest I have ridden is for 125 kilometers, but more on that in an upcoming post.
IndiBlogger has been an extended family for me. Almost all meets in Mumbai and you can expect me to be there, standing with the IndiTeam and running around. Well, you are forgiven to think I am part of the IndiTeam! I get those feedbacks from people about the meet thinking I am from the IndiTeam, even after I told them many times over in the past meets that I am not part of the IndiTeam itself.
But I love hearing from all IndiBloggers about the meet, before, at and after the meet. I am used to it, its not bizarre any more. 🙂
The Tata guys had arranged for a paid parking, so I could park my Wego just outside the door. I must say, the Tata Motors guys know a thing or two more about being the best host.
When I reached there, the usual last minute set ups before the meet ensued. The enthusiasm build up was greatly different from other meets. The Bloggers had to wait outside to be ushered so that we get time to best the finer details, which we did in plenty. One of the things I have always loved about IndiBlogger meets, is that it is always focused on Bloggers. Bloggers call the shots about what they would like to do, and have fun doing it.
So our regular Host Anoop (Zombie) looked completely zombied with the tiresome travelling. I did miss the other regulars Diana and the IndiBaby Edina, and our dear Mumbaikar Vineet Rajan who was on (his own way of Xtreme Ride) a Royal Enfield trip to Leh-Ladakh, but there was no time left to miss anyone anymore.
It was about start time, Nanny and Swati busy behind the counters and getting bloggers registered. Tata Motors also had asked bloggers to sign the consent from – for obvious reasons. This also meant, that all those who have a driving license could drive the STORME. For all those who forgot to bring their driving license or got caught jumping signal and Police took your license – Xtreme bad luck!
Starting with the regular introductions, bloggers started feeling the heat!
The Freebies
This time around, the freebies were radically different from what I am used to. Freebies included Wildcraft sleeping bags, Swiss Army knives and Nikon point-to-shoot cameras etc. Oh now you are talking right 🙂
You can bet that those who won these freebies would be thanking their god-goddesses they decided to come. Oh yes, there was a game too to guess the numbers from 1 to 10 – you guess any number and raise your hand – Anoop's privy eyes would find the best candidate among the strong pack house assembled at Chitrakoot Grounds banquet.
There were special secret gifts too for the guys who choose number 1 and 6 – and all they got was a Banana and Onion peel (from McDonald's) respectively and number 7 was a lap dance from Nihal. Sanguine got the big on at the first guess – number 5 – the Wildcraft Sleeping bag. Now that was real fun, and that entire session was full of laughs!
Aditya Iyer (the nameless one) tried so much – we know him so well and find him cute and think that itself is the biggest freebie – but his efforts did not impress Anoop 😛
There were freebies for the best tweet – what would you love to do while in a car's backseat? Among the tweets that won was one that I liked the most. "Sitting behind the driver and telling scary stories". My own tweet, #XtremeDrive is to ride a Wego from Dombivali to Andheri via Makhurd was just laughed off by Anoop, Kartik, Renie and Nihal. F*** you guys! 😛
The Tata Motors Chief of Marketing gave us a nice subtle presentation that would be nothing infront of what was to come.
The Rope story
After all of this came the time to take the bloggers out for some fun – well, poked fun.
All bloggers were split in to five teams of 20-25 (Sorry Nihal, I still did not think they all had only 20 – from what they looked to me, some had about 30 too!) and were given a task. A Tata Safari is a heavy beast, and who in this world can think of taming it with a rope? The Bloggers can do! But it was certainly difficult.
The blogger teams had to pull the mighty Safari STORME from Point A to Point B. The team that can pull the beast in the shortest possible time wins. Taming the beast was so big a job that the rope gave away itself 5 times! Now you can imagine why the bloggers looked muddy and have their tooth fallen… infact one did break his tooth in the process.
Bloggers were asked to make teams of 20, and I was the one who recorded the timings, while Renie and Anoop were driving the event and getting teams prepped. My Galaxy Note and the stylus was finally of some viable use.
Teams were:
Cyclone: 5.44 seconds
Hear me Roar: 5.54 seconds
Storme Riders: 6.65 seconds
Xtreme Riders: 6.8 seconds
Tornado: 9.28 seconds
Safety
Tata Motors had bloggers safety on top of their mind. An ambulance was on standby, with every first aid possible on avail. I personally think, even if everyone may have not noticed to a great extend and even may not have blogged about it, that this was one of the best things I liked about the meet. No compromise on Safety! Thankfully, it departed unutilized!
We Indians, especially Mumbaikars, are less concerned about safety generally. I never ride my Wego without my helmet, but so many riders on the Indian streets never do. I never sit on the driver's or passenger seat without Seat belt.
I also insist the cab drivers (most of them try to react as if they didn't hear me) in my office to wear one whenever I travel – many others don't even care / notice. The cab never leaves with me in and seat belts not tucked.
Safety is one of the most important aspects of our lives on road, often ignored. Thankfully, this is being adapted more than it used to, but the rate of adaption has not even touched a sizeable number, which makes me sad.
The Safari STORME takes safety seriously too, and it does a notch higher than what we have seen yet in India. And lest we forget, safety is not only Seat belts/Helmet. It has to do with everything that Vehicle is made up off. The tires, body, the chassis, panels, even head lights and side indicators included, matter for our safety on roads. More on Safety on the new Safari STORME further ahead.
What I love most about Safari?
Let's forget the new Safari STORME for a moment and back to it a bit later. Tata Safari has always interested me. For a Car and Bike fanatic like me, it was and still is the Ultimate SUV ever in India. Forget the Mitsubishi Pajero, which is a premium class or a Toyota Land cruiser which is for the ultra-rich, Tata Safari gave us Indians what they can't otherwise buy. And you can't go wrong with it.
In 1998, when the Safari was originally launched, it was (and still is) the first SUV to be designed, developed and manufactured "entirely" in India. Immediately, this was the SUV darling to have, even for those who are rich and also launched Tata Motors (Telco then until 2013) as a serious manufacturer of Cars – which people can use.
I loved the big – car feeling that Safari gives. I have heard from my friends who had driven it once or more that you need to drive it once to know what it can do to you. And your prestige. As a kid, Safari had always been my car-to-buy when I grow big, and it is an ambition I will fulfill soon and for sure, not too much into the distinct future.
The all new Safari STORME
Consider this as a Safari STORME Review if you will. I have a huge amount of respect for the Tata Motors' ex-Chariman Ratan Tata (who doesn't?) and feel awesomely proud for what Tata Motors as an entirely Indian company has achieved. You can find details of my affection for Tata Motors on my blog if you are regular here. Two among the biggest tags on my blog's Tag Cloud are Tata and Tata Nano – another feat I am so proud about.
So when the new Safari STORME (was to be named Safari Merlin) was showcased during the Auto Expo, expectations from this beast were already high. Built on Aria's X2 platform using a stronger hydro-foamed chassis, STORME looked dynamically bold, dripping with dramatic aggressiveness from all angles – a feature it improved from its already bolder older generation sibling.
The Design
For starters, the question that came to my mind was – why does the old looks of Safari were carried over and not a different Safari altogether considering that the new Safari came 14 years after its first appearance. This did let me down a bit and was worried that this should not dampen its sales. It is a new car beneath the beast skin, but the skin does rule hearts in India where people listen to their heart and less on their mind when choosing a car.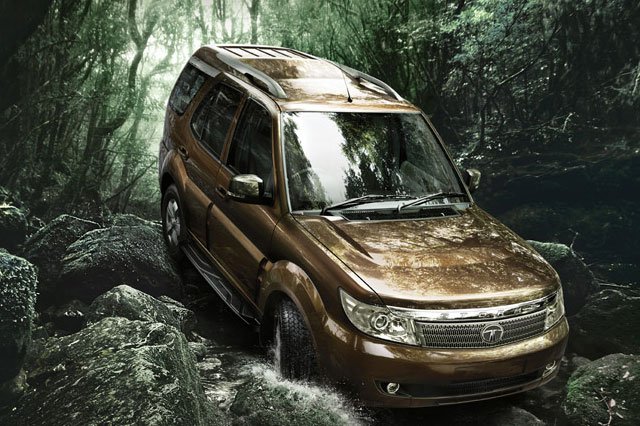 I love it the way it looks, and I am told that this was based on the customer feedback. They wanted the new STORME to have the heritage of older Safari yet it should be better than ever. Well, after the IndiBlogger XtremeDrive, I can tell you that Tata has managed to achieve that, and with élan.
I will not be surprised if people choose the rather cute but cheeky Renault Duster (which is ringing the cash registers at Renault India) which is in the same price bracket over Safari STORME. That is, until they have test driven the new beast on an off-road track.
This Safari is a SUV is no secret, and hence you should try to ride on the new STORME as SUV. As a car on Road, Safari has the best comfort, room and storage. And STROME is no different, but betters its predecessor greatly.
The Heart of the Beast
Safari STORME has a new heart. Tata Motors have created all new Common Rail Direct Injection 2.2 Litre 16 Valve DOHC "VariCOR " Diesel Engine with Variable Turbine Technology(VTT), High Inertia Flywheel and is electronically controlled by a 32 Bit Microprocessor and so goes the mumbo-jumbo. But sit inside and you know what it feels like. The powerful all new motor is also more fuel efficient, returning about 14kmpl on city and highway.
Safety
The new X2, hydro-formed chassis from Aria is much stronger and lighter than the older generation Safari and hence it has more strength is much safer. This also saves some weight, making it lighter at the same time. The STORME has been designed and developed with exports to European markets in mind too, and hence complies to the stringent EuroNCAP safety norms.
The top end 4X4 also comes along with dual front air-bags, adding to its safety check-list. Although this may be sufficient, I think all Car manufacturers should make these safety features as basics instead being reserved for the top-of-the-line models.
I know well that in India, price of the car matters a lot and one reason why we don't see much Volvo cars being sold here in spite of them being the ones with most safety features ever in a car. But slowly and gradually, these should be made part of the basic features.
XtremeDrive on Safari STORME
Not to divert away from our meet, let's get back to the IndiBlogger meet. After the tug-of-war (tug-of-Storme anyone?) with the Beast, the bloggers headed for the XtremeDrive. An entire area was set-up to mimic the off-road scene.
Tata Motors played the perfect host. It is summer still in Mumbai, heat was at its best and with all the action and dust packed off-roading, it was natural that my fellow bloggers were going to feel the heat. To cool them, there was plenty of Water. And RedBull
Safari Music
Browsing through the Tata Safari website, I found that they have dedicated tracks that you could well, listen while enjoying your Storme.
Black Hurricane
Safari Strome Ringtone
Dance Till Sunlight Cruise Control Mix
Dance Till Sunlight
Dance Till Sunlight Speed Mix
PS: You can download these MP3 files by doing a right click on the link and selecting "Save Target as" (IE) or "Save Link as" (other browsers) options.
What an idea!
Bumble Bee, See-Saw, 45o tilt were set up on the flat ground to showcase what the beast can do! And then there was an entire terrain designed to showcase its true off-road capability. Tata Motors had 3 Safaris driven by super-experts (if I may) who could showcase the true potential of the vehicle.
The ride of a lifetime (so to speak) started immediately afterwards. The vehicles were ridden as if they were toys, and literally abused. But the Storme never showed any sign of weakness or tiredness ever after being abused through a steep dive at 60o or drive up 60o. The best part is while climbing up-hill; you don't have to even press the accelerator, the torque does the trick for you. The beast knows how to climb on its own!
Myself, Anoop and Nihal were excited chickens who ran at the drop of the hat to experience ourselves the power of the beast. Our driver, Yogesh drove us through both the off round rough terrain and artificial setup of Bumble Bee, See-Saw etc. I was seated on the front seat, and it was freaking hellish of a ride. Yogesh was also kind enough to explain us the features of the beast while driving through.
While watching other bloggers enjoy the XtremeDrive, we had seen Vishal doing doughnuts. And I am mad about doughnuts, albeit on a car and not the foodie one. While we stepped in, I had asked him to do the doughnuts for us. And he did. And it was F***ing awesome!
I was not over the ride even after this for next 10 minutes. Phenomenal! As I told Anoop after the ride, I am going to buy this piece of awesome shit! Hopefully sooner.
The Start of the Beginning
Seriously, I think beginning of our Blogger innings start at the end of every IndiBlogger meet. And that is what we call awesomesauce. Pictures from everyone pour in, and bloggers share their juice of the story.
It was the time to click pictures with phones and cameras, gossip (I know it happens even here) and sharing experiences, everyone seemingly had a gala time and their best meet ever. IndiBlogger had raised its bar, once again.
After a rather subtle dinner (sorry non-vegers), we headed home.
The Dream
I dreamt that it would have been awesome if we have had a surprise visit from the man himself, Mr. Ratan Tata. That could have blown the crowd away, and no one at the meet would have ever forgot this meet, this IndiBlogger XtremeDrive Safari Storme meet. Till that dream comes true, it is the Safari Storme that I want, I need.
Pictures and Music courtsey: IndiBlogger, Safari Storme website and Puneet Dubey (via IndiBlogger).